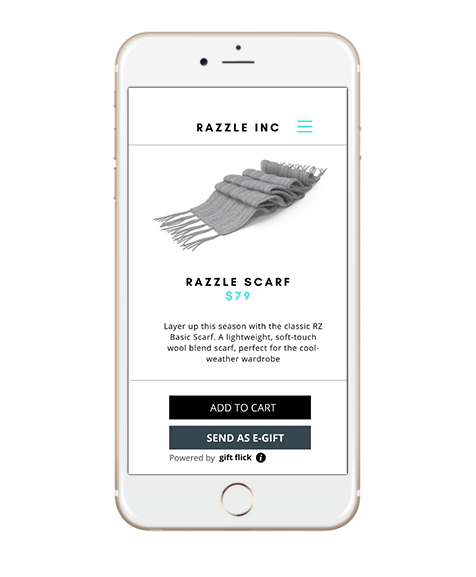 Never miss a gifting opportunity
Our game changing gifting API allows your customers to send any product in your e-commerce store as an instant digital gift. For seasonal gifting occasions this means you can keep selling even after your shipping window has closed.
Stunning gift-opening experiences
e-vouchers are a thing of the past! gift flick enables augmented gifting like you have never seen before. Your customers can send the gift ahead of it arriving in the mail, in a video gift story they personalise with text, photos, video and audio. We combine all the personal media elements with the product, and then stitch it together to create a short video gift experience, which the user can send via email or text. We call this the "gift flick gift story".
Your brand. Your gift stories.
Add your brand assets to our templated gift stories or create your very own in consultation with gift flick's Creative & Content team. Leverage your brand ambassadors or latest creative campaign to create magical digital gift experiences your customers will love.
Why gift flick?
We believe that gifting is relational, not transactional. Which is why gift flick's game changing API can increase customer loyalty by enabling the creation of magical and personalised gifting experiences, while capturing more gifting sales for retailers.
As well as giving customers an unparalleled digital gifting experience, we're helping the environment by reducing the amount of wrapping paper, sticky tape, and greeting cards used in a gifting exchange.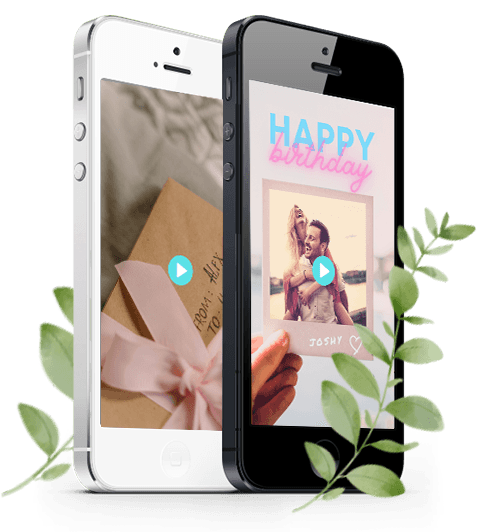 There are many reasons to use gift flick
Whether your customer is a last minute gifter, long distance gifter, stuck at home in lockdown, or simply wants to gift the latest product that is on pre-order, the gift flick solution has you covered.
Frequently Asked Questions
How do I set up gift flick?
Reach out to us at hello@giftflick.com.au and we can guide you through a very simple setup process. If you customise our templated gift story videos you can get up and running in a matter of days.
How secure is gift flick?
Our plugin/API is enterprise quality secure. Everything is hosted on secure AWS servers and set up to meet the demands of any amount of traffic or website load.
Will the plugin slow my website down?
No. We have built the API with performance in mind - it is very much a light weight product designed to fit in seamlessly with your current customer buying journey and check out flow.
Can I create my own gift story videos?
Absolutely! Some brands want to own the experience end to end and recognise that custom gift stories are a great new marketing channel to communicate their brand's creative campaigns. We will work with your creative team at every step to build a super personalised brand experience for your customers.
How much is gift flick?
We understand CAC exceptionally well, so we only charge when you covert a sale using our technology. More than 90% of customers say if gift flick was not available at point of purchase they would have resorted to another product/brand or solution altogether. That's why we are confident that gift flick will deliver incremental sales to your business.
Will this have an impact on my supply chain and logistics?
Not at all. Nothing changes operationally. You ship and manage the customer the same way you do now. We are simply giving your customers the ability to send a gift as a virtual preview before it arrives in the mail, or inbox in the case of a gift voucher.
---
By partnering with gift flick, we're able to offer our customers greater peace of mind during the busy festive season. Thanks to the partnership, any gift bought online at Country Road can be sent digitally in seconds, alongside a personalised video message. For us, it provides a more flexible approach to gifting that feels just as thoughtful.
Gift flick added great value to our Father's Day campaign, allowing our consumers to easily connect with their fathers in a time when it's not so easy to get together. And we hope a few of the dads were surprised by their gifts also!
We're thrilled to be the world's first brand to bring gift flick to market! Creating innovative products and experiences for VB consumers is our passion and gift flick's technology is helping us do this. With gift flick, it's now never too late to purchase VB merch as gifts, offering a digital unwrapping ahead of the gift arriving in the mail. This is a great addition to our e-commerce platform, and early results show consumers are loving the opportunity to create personalised digital gifting experiences.
UX Screenshots
Browse a selection of examples of the user video gift story creation experience. The creative style can be customised easily so that it becomes an integral part of your brand or current campaign communications.
Easy Installation
Get up and running by copying and pasting a few lines of code or by installing the Shopify app.
Customisable UI
Add your logo and select your brand colours to make the entire UX creative stay on brand.
No supply chain interuptions
Our tech works around your current supply chain and logistics processes.
Responsive Ready
The gift creation module is 100% mobile responsive so your customers can gift instantly from any device.
Built for scale
gift flick is built to perform with any level of traffic/demand ensuring a brilliant and consistent customer experience.
Security and Privacy
Enterprise grade security with strict privacy policy processes. In fact we don't store any customer sensitive data.